Modbus to Ethernet Gateway
Our smart WT905M Modbus to Ethernet Gateway will Expand your Data communication over Wired networks by Ethernet / LAN Gateway with Secure and two-way communication, without in-depth knowledge of Protocol Concepts. Our Smart Modbus Gateways Series replaces the complex approach of sending the Modbus slave data to the centralized server, either single or multiple slaves. Modbus RTU to Ethernet Gateway collects the data through MODBUS (RTU) protocol and sends it to the centralized server through an Ethernet/LAN using TCP or Http mode by JSON or CSV Format. All the Parameter is configurable via Web Portal or PC Utility or Server IP Commands, All configurations are done remotely. Not required to have the device during configurations.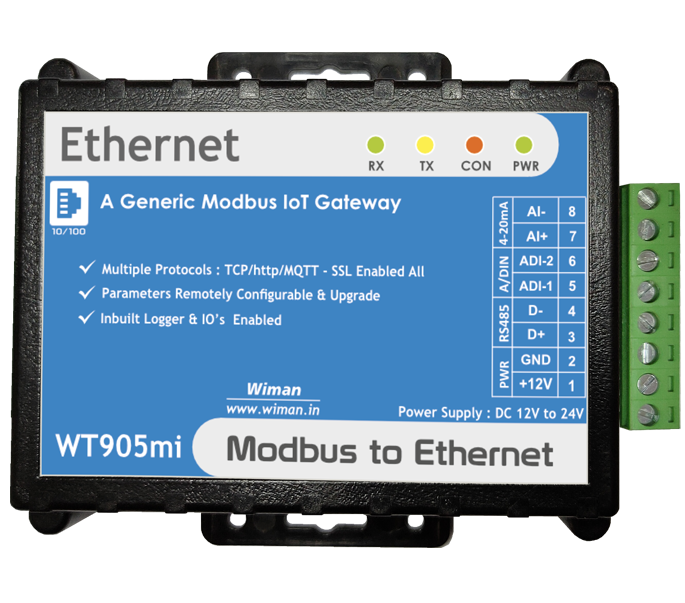 Our generic Modbus to Ethernet Gateway to fetch the Standard Modbus Slave device like Energy meters, Solar Inverters, PLC, Windmill, AMR, IO Modules, Flow Meters and more. The built-in smart data redundancy communication paths of Ethernet IP in RTU Gateway, the data would be guaranteed to transfer your centralized server. We also provide a Cloud-based Graphic interface (based on client requirements) to manage your device machines easily. Users can monitor and control the Slave and I/O data of RTU devices

Ethernet Gateway Highlights
Intelligent Modbus, IO, Data Logger, Ethernet/LAN Connectivity
1 x RS-485 port for Modbus, 1 x Utility port for Configuration
Configure and Read Multiple Slave IDs, Selectable Register Address data.
Parameter Data type, Byte Swapping Conversion and Scaling factor enabled.
Transparent Modbus or Device Inbuilt Polling – Formatted to (ASCII/HEX/RawHEX)
Smart Inbuilt Data Logger works during Network and Server Disconnection
Logger Sends offline data once Network and Server Connected
Authorized numbers list for command and Configuring.
Configurable TCP/Http/MQTT/Https Mode, GET/POST Methods
Configurable CSV/JSON Format for Parameter Packetization
Remote Configuration through Web Portal/Server IP Commands
Additional 2 x Digital/Analog Chanel (0 to 24V), 1 x 4 to 20mA Chanel.
OTA (Over The Air) Firmware upgrade, Device Configuration update.
LED indicators to provide GSM, GPRS, Signal, Modbus Tx/Rx COM Status.
Configurable Server Connection: Connects on Demand or Always Connected.
Keep Alive command to maintain socket connection
Automatic Meter Reading
Solar Inverter Monitoring and Control
Generator Monitoring and Control
Energy Monitoring and Control
Fault Indicators
Temperature Alerts, Indicators
Pump Control, Flow Measurements
Water Level Monitoring and Control
Home Automation
Windmill, SCADA, Data Exchange
Central Monitoring and Control Systems
Base Station, ATM Monitoring and Control