Analog IO Card
Introducing the Smart WT30i Analog IO Module with Modbus IO Card Expansion. Enhance your data acquisition capabilities with the Smart WT30i Analog IO Module and its flexible Modbus IO Card Expansion. Collect, monitor, and control data from a variety of sensors with confidence, all while benefiting from the convenience of Modbus communication. Our solution is tailor-made to meet the demands of today's industrial automation landscape.
Discover the future of data acquisition and IO expansion with WIMAN. Contact us today to learn more about the Smart WT30i Analog IO Module and its Modbus IO Card Expansion, and see how it can revolutionize your operations. Elevate your efficiency, precision, and control with this advanced system.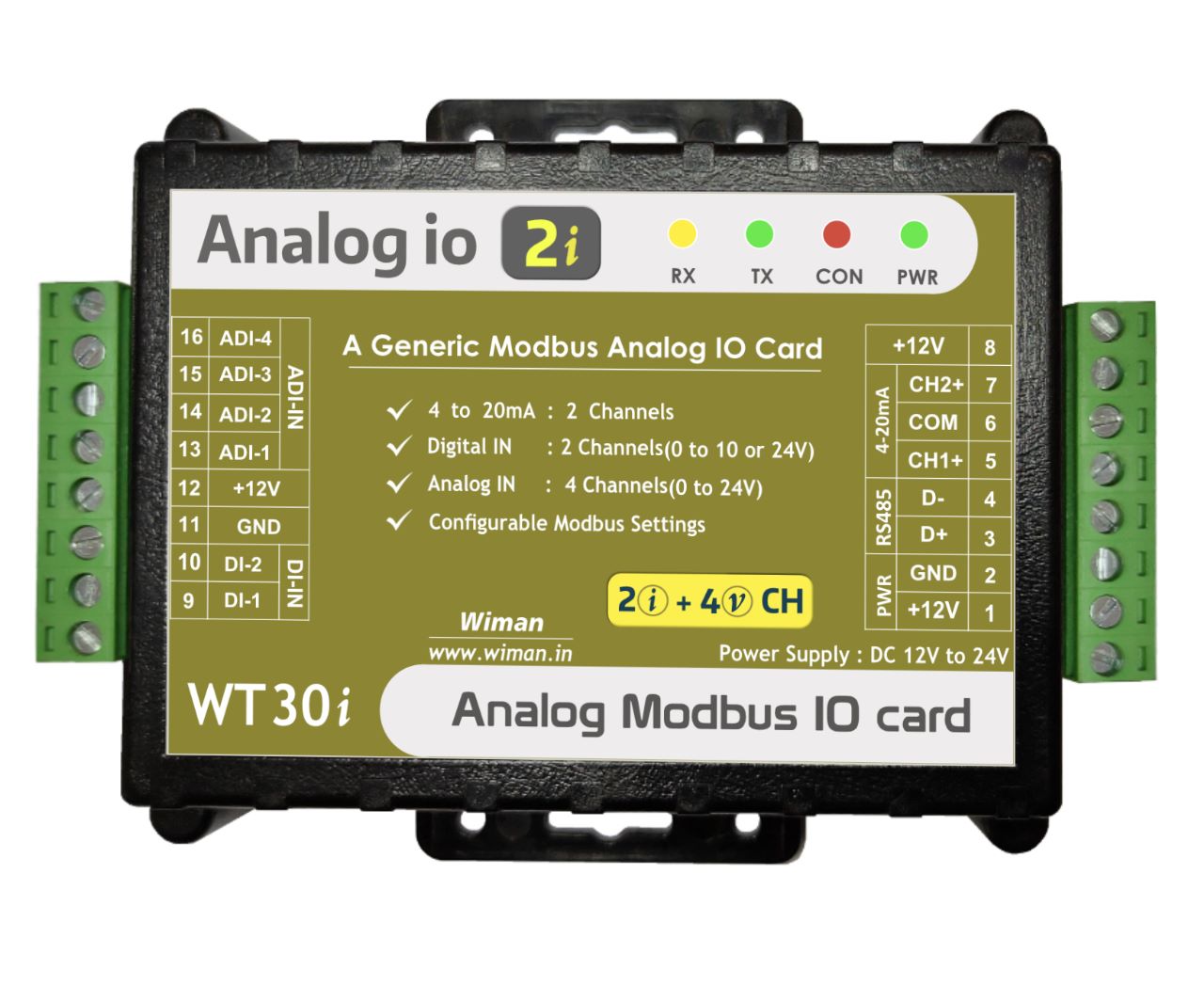 | | | |
| --- | --- | --- |
| |  I/O | No |
| 1 | DIN (PULSE) | 2 |
| 2 | VIN ( 0 -10V ) | 4 |
| 3 | AIN ( 4-20ma) | 2 |
Analog Card Highlights
Key Features:
Modbus IO Card: Our versatile Modbus IO Card expansion empowers you to effortlessly expand your analog IO capabilities. Every parameter is customizable, ensuring seamless integration into your existing systems.
Custom Analog & Digital IO: The Smart WT30i is a highly adaptable solution that allows you to fine-tune your analog and digital inputs to suit your specific needs. You can configure scaling, measurement ranges, and response times to ensure precision.
Pulse Input: For applications requiring pulse counting or timing, our module can be configured to capture and process pulse inputs. This is particularly valuable for tasks like flow rate monitoring and motor control.
Modbus Registers: All data collected by the Smart WT30i is diligently maintained as Modbus registers. This standardized approach simplifies integration with Modbus-enabled devices, PLCs, and SCADA systems. It offers you easy access to your data, real-time monitoring, and control.
Scalability: The modular design of our Smart WT30i Analog IO Module and Modbus IO Card Expansion means that you can scale your IO capabilities as your needs grow. Add more expansion cards, analog channels, or digital inputs/outputs to accommodate your evolving processes.
User-Friendly: Configuring the Smart WT30i is a breeze thanks to our intuitive software interface. Adjust settings, set alarms, and monitor your data in real-time with ease.
Robust Design: Built to withstand harsh industrial environments, the Smart WT30i boasts a rugged construction to ensure long-lasting, reliable performance, even in challenging conditions.
Modbus Gateway Highlights
Intelligent Modbus, IO, Data Logger, GPRS/2G/3G/4G/LTE Connectivity Management
1 x RS-485 port for Modbus, 1 x Utility port for Configuration
Configure and Read Multiple Slave IDs, Selectable Register Address data.
Parameter Data type, Byte Swapping Conversion and Scaling factor enabled.
Transparent Modbus or Device Inbuilt Polling – Formatted to (ASCII/HEX/RawHEX)
Smart Inbuilt Data Logger works during Network and Server Disconnection
Logger Sends offline data once Network and Server Connected
Authorized numbers list for command and Configuring.
Configurable TCP/Http/MQTT/Https Mode, GET/POST Methods
Configurable CSV/JSON Format for Parameter Packetization
Remote Configuration through SMS/GPRS/Server IP Commands
Additional 2 x Digital/Analog Chanel (0 to 24V), 1 x 4 to 20mA Chanel.
Alerts: Power Failure Restore, Low battery Shutdown, Digital IN Changes, Device Reset.
OTA (Over The Air) Firmware upgrade, Device Configuration update.
LED indicators to provide GSM, GPRS, Signal, Modbus Tx/Rx COM Status.
Configurable Server Connection: Connects on Demand or Always Connected.
Keep Alive command to maintain socket connection
Automatic Meter Reading
Solar Inverter Monitoring and Control
Generator Monitoring and Control
Energy Monitoring and Control
Fault Indicators
Temperature Alerts, Indicators
Pump Control, Flow Measurements
Water Level Monitoring and Control
Home Automation
Windmill, SCADA, Data Exchange
Central Monitoring and Control Systems
Base Station, ATM Monitoring and Control.