Modbus TCP to Modbus RTU
Our smart WE62C Modbus RTU to Modbus TCP or Modbus TCP to Modbus RTU Converter will Expand your Modbus Protocol Conversion over Wired networks by Modbus Converters with Secure and two-way communication, without in-depth knowledge of Protocol Concepts. Web Portal based Configuration helps to change the settings like baud rate, Modbus TCP IPs/Serial Settings, can update the Firmware, Configuration Remotely. Modbus RTU to Modbus TCP Converter comes with Industrial Quality – Power Supply Supports 12V to 24V DC. We offer top quality products at reasonable prices, provide unparalleled technical assistance, and back it all up with outstanding customer support. Another way of configuration will be done by Web portal with very simple and easy.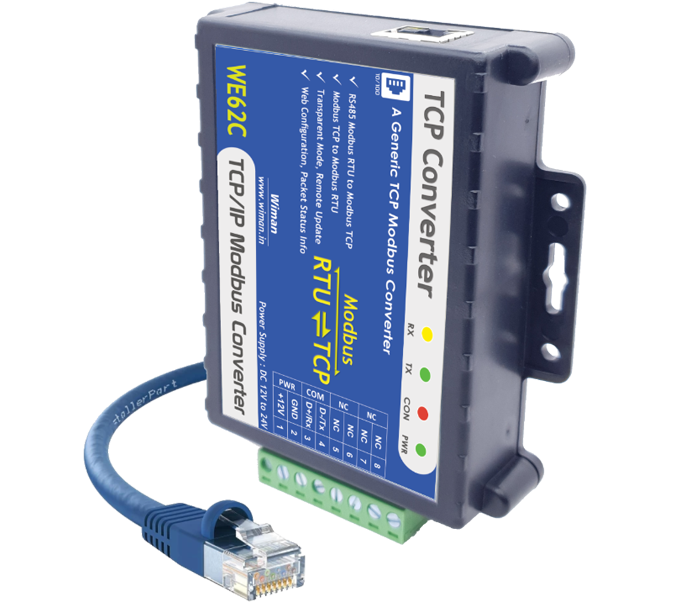 It Can Support 3 Modes: Modbus Master – TCP Slave / TCP Slave Modbus Master / Transparent (Serial)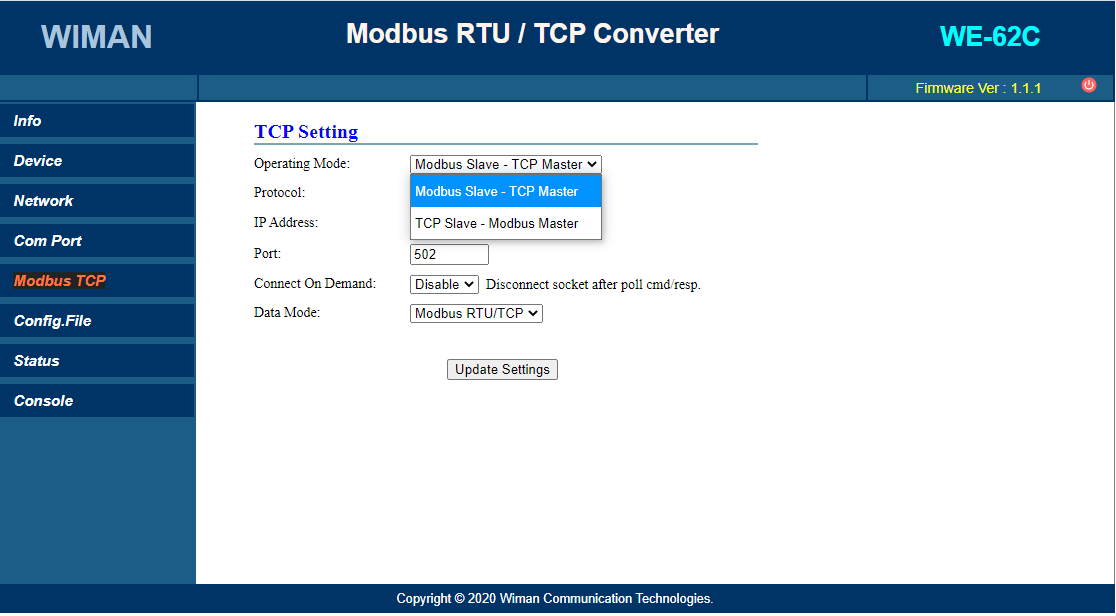 Common Features of Modbus Gateway
Configurable Multiple Slave IDs, Selectable Address Range
Configurable Device Mode: Transparent or Modbus Polling
Formated to (ASCII / HEX / Raw HEX) – ASCII (datatype conversion)
Data Log during Server / Network Disconnection – 100% No data Loss
Configurable MQTT/Http/Https/TCP Mode, GET/POST Methods
Configurable CSV/JSON Format for Parameter Packetization
Remote Configuration via Server IP Commands / SMS / FTP Update
Additional 2 x Analog (0 to 24V) Channel, 1 x (4 to 20mA) Channel
OTA (Over the AIR) Firmware / Configuration Update
Keep Alive Packet to maintain socket connection.
Serial packetization methods: Packet Length / Time Out Interval / End Char Based.
Secure Access: Authorized numbers / Password for Commanding the Device
Power Up / Fail, Shutdown, IO Alerts to IP or SMS
LED indicates GSM, GPRS, Signal, IP Connection, Txd/Rxd Status
Web Portal Configuration for LAN and WiFi Devices.
Integrated with Optional SMS Gateway API for sending SMS
The device can Connect up to 32 Slaves, More than 1500 Register Tags.
Automatic Meter Reading
Solar Inverter Monitoring and Control
Generator Monitoring and Control
Energy Monitoring and Control
Fault Indicators
Temperature Alerts, Indicators
Pump Control, Flow Measurements
Water Level Monitoring and Control
Home Automation
Windmill, SCADA, Data Exchange
Central Monitoring and Control Systems
Base Station, ATM Monitoring and Control